I Am Obsessed With The Timeless Elegant Hampton Design
For whatever reason, I have always been drawn to the Hampton Style design. What's not to love about the timeless classic design that makes you feel at home with over-sized living spaces, soft muted beach color palette with white wainscoting, and natural textures? There are nine different ways to decorate a home with an elegant coastal Hampton vibe.
Imagine the iconic beach house from "Something's Gotta Give," owned by Diane Keaton, nestled in the serene Hamptons. That's precisely the type of home I'm referring to, my friends. I'm absolutely enamored with this classic Hampton home style, to the point that I've fashioned my own house after it (see my entire home remodel right here). The timeless charm, the coastal elegance, and the inviting ambiance are simply irresistible. It's a dream come true, and I'm thrilled to have my home exude that same captivating and luxurious coastal vibe.
If you like coastal homes and the unique, inviting feel, then the Hamptons-style takes the cake! Since the Hampton style is the ultimate coastal design (in my opinion). I have rounded up nine (9) ways to decorate a home with an elegant coastal Hampton vibe.
Our Hampton Inspired Home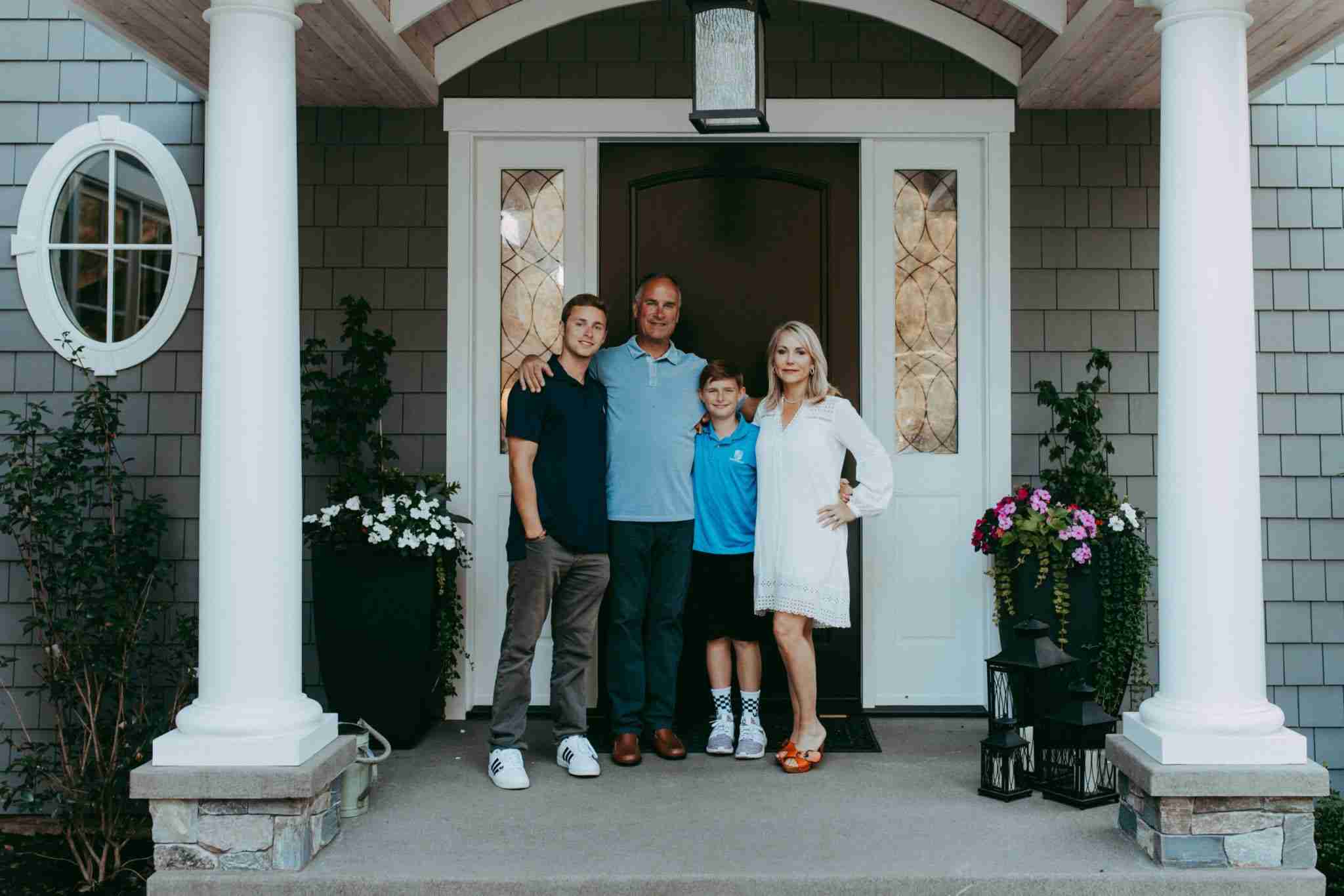 When we renovated our home, I had a romantic Hampton style in mind with timeless design elements. The relaxed yet luxurious coastal living was our ultimate goal. Living with all boys, I wanted to add lots of classic curved lines.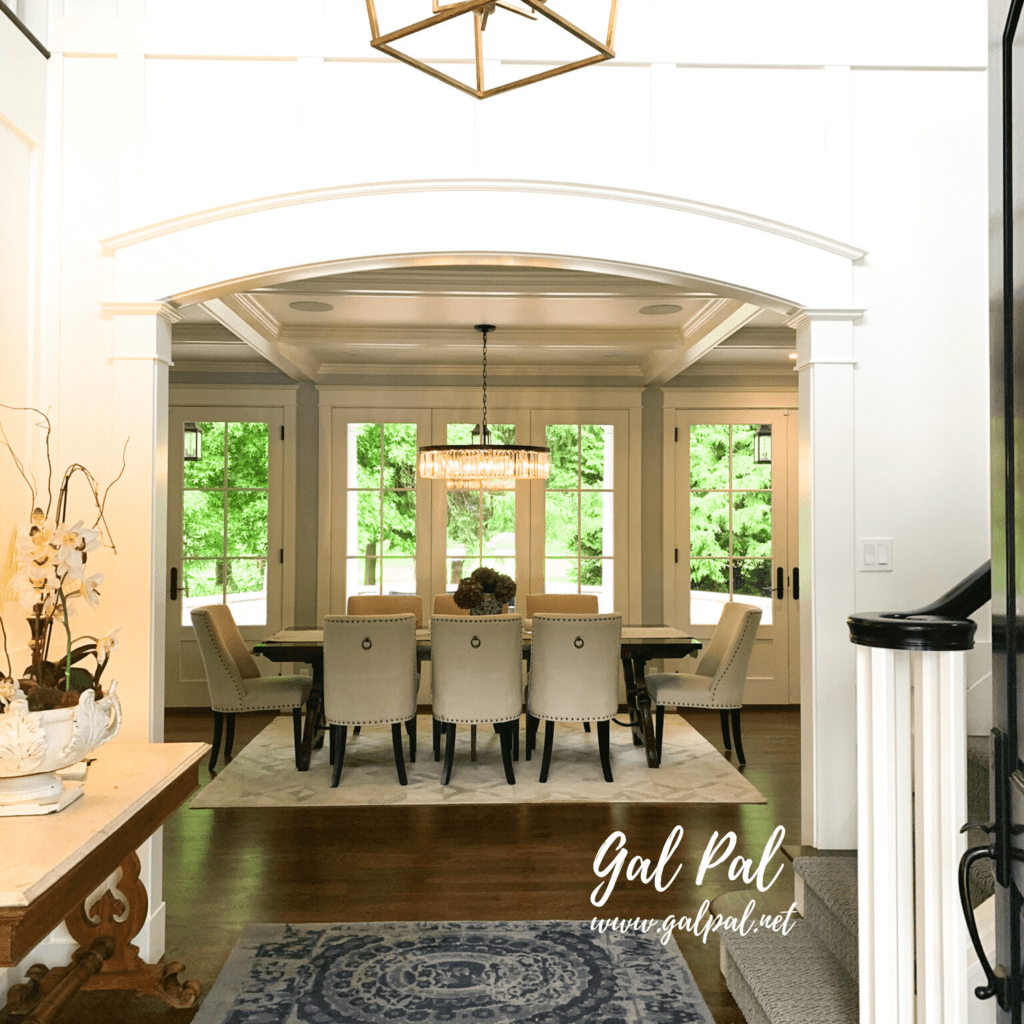 For example, dark timber floors, chandeliers, grand staircase, bay windows, sconces and heavily paneled walls.
An elegant yet simple home with chic blues, off-whites, paneled walls, and large windows that flood living spaces with natural light create an aura of calm, just like being on vacation.
What Is The Difference Between Coastal and Hampton Style?
The Hampton Style
Hamptons style is described as a timeless, cool, classic, and sophisticated design with a casual beach vibe.
The Hamptons, on eastern Long Island's South Fork, is a string of seaside communities known as a summer destination for affluent New York City residents.
It's marked by long stretches of beach and an interior of farmland, towns and villages with 18th-century shingle buildings and estates hidden behind tall boxwood hedges.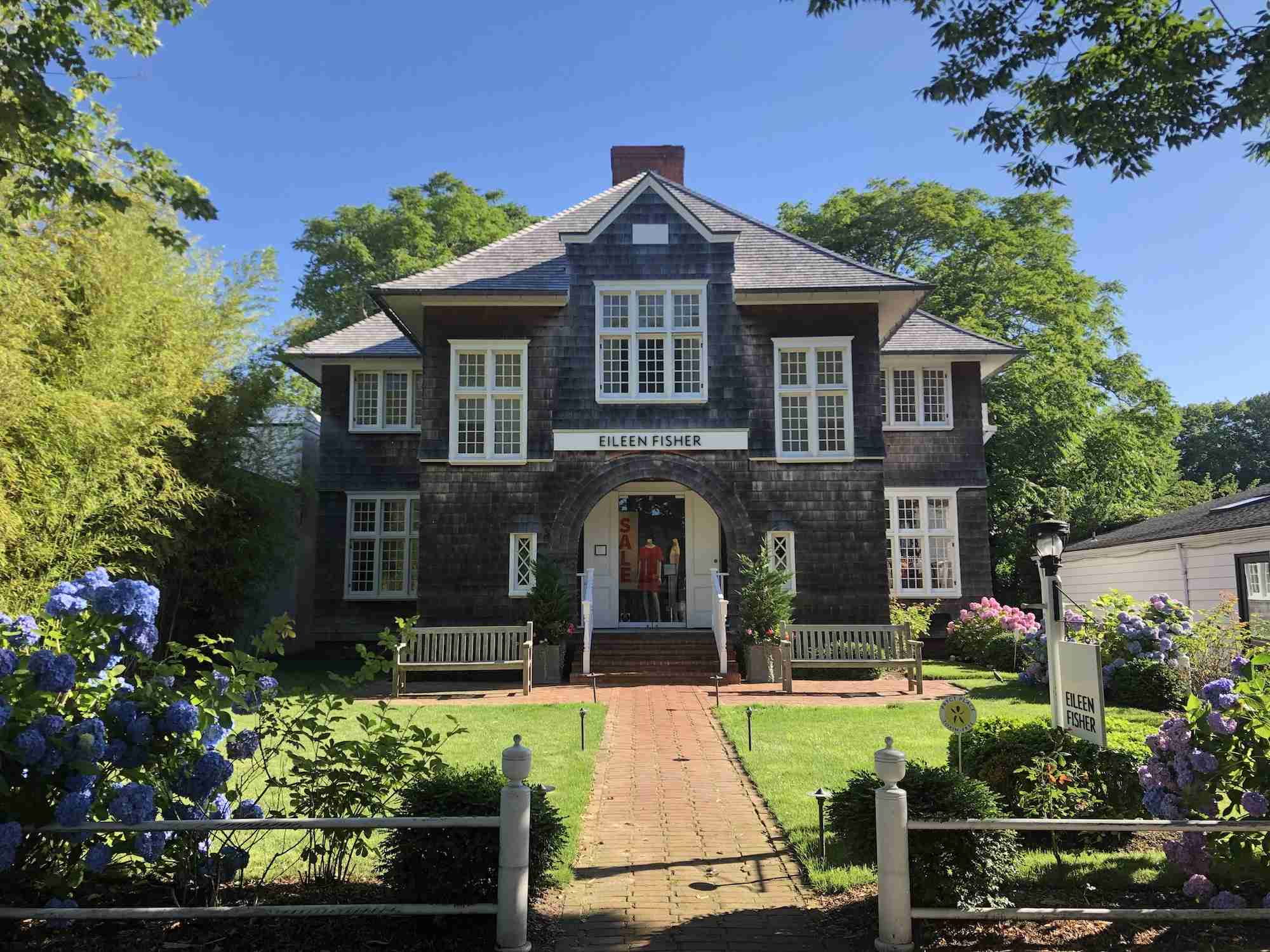 East Hampton is the backyard to high-end restaurants, bars and designer boutiques. My friend snapped this picture above on a recent trip.
American Coastal Style
Coastal is more of a feeling than just a style. American coastal design, as opposed to tropical or Mediterranean, is one of the most popular design morphing into subcategories such as Cape Cod, Hampton, farmhouse, cottage, and modern coastal.
9 Ways To Decorate Any Home With A Hampton Vibe

You don't need to live in a beach town or one of the most charming beach towns in the U.S.; to create that dreamy beach house vibe. You can decorate and design your home in the following ways.
1. Let It Shine- Natural Light
You can't think of a beach without envisioning the sun and light. To bring light into a room, replace any heavy or dark window treatments with light and airy ones. Let the light shine through.
Do what you can to flood the living spaces with natural light to create an aura of calm, just like being on a vacation.
If you need privacy, consider white lined linen drapes or inside shutters. If you don't have many windows, you can use large mirrors to invite the light to bounce around the room. For instance, decorating your entryway with an inviting table and mirror does the trick.
Decorate with orchids and other live plants that require indirect sunlight.
href="https://galpal.net/copy-of-copy-of-untitled-2-3/" rel="attachment wp-att-16079″>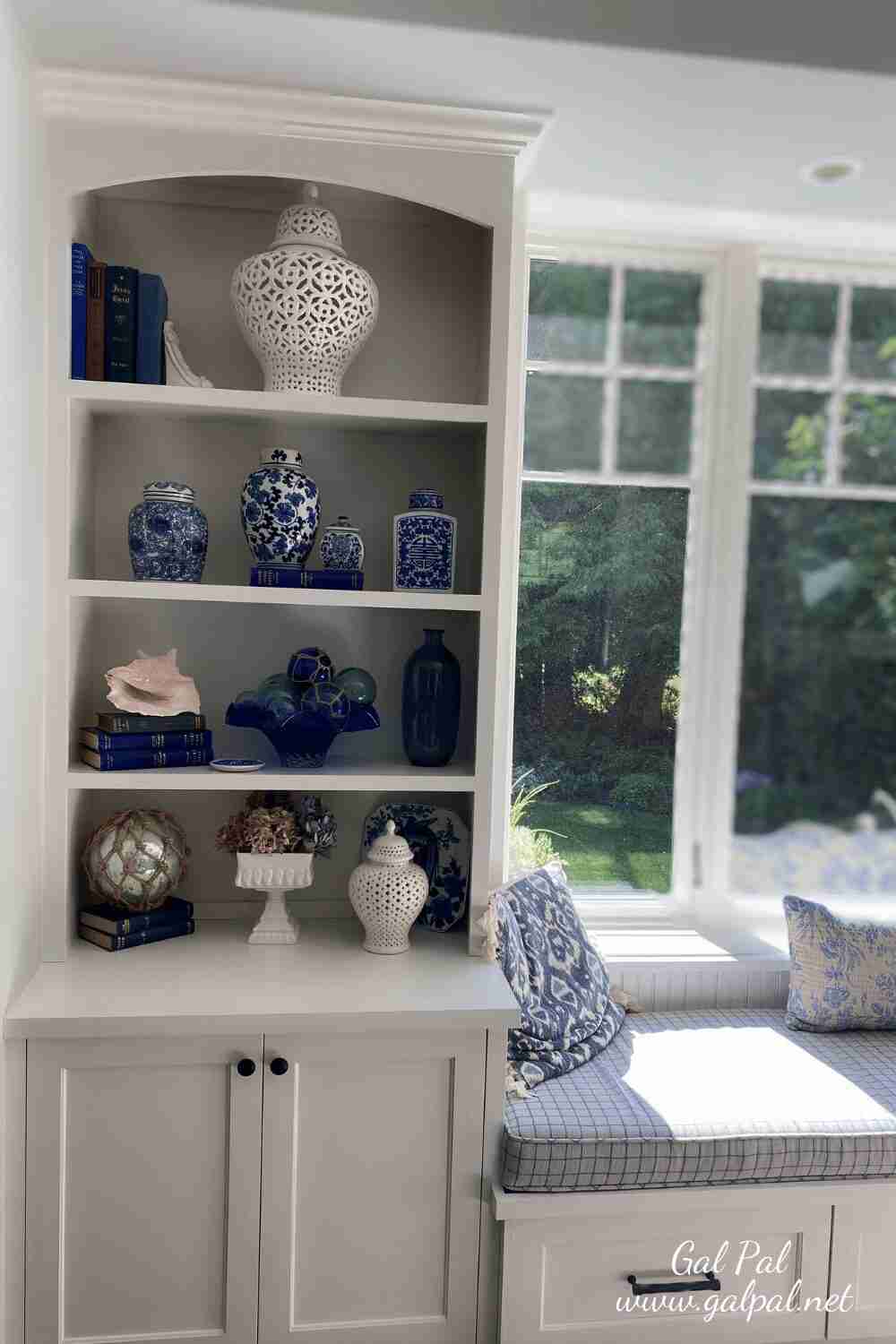 2. White and Blue Decor
Combining blue and white adds a timeless element to any room. Consider soft blues like a french blue or go for a navy or gray-blue color. Teal and tiffany is fun too!
I have always been drawn to blue and white. I used these coastal colors when I designed our home. You know, that clean and simple look like wearing white jeans with a navy cashmere sweater or chambray linen shirt. I dressed my house with that vision in mind.
In a home, blue and white offers comfortable elegance and enduring appeal. I can't get enough of it. The beautiful thing about blue and white is that the colors provide a backdrop for beautifully natural and neutral colors, it's like the sea and sand combination.
Color can also mingle well in a room of blue and white. For instance, when you add a pop of bright colors like pink or lime green from flowers or lush plants, it adds a brilliant focal point of interest.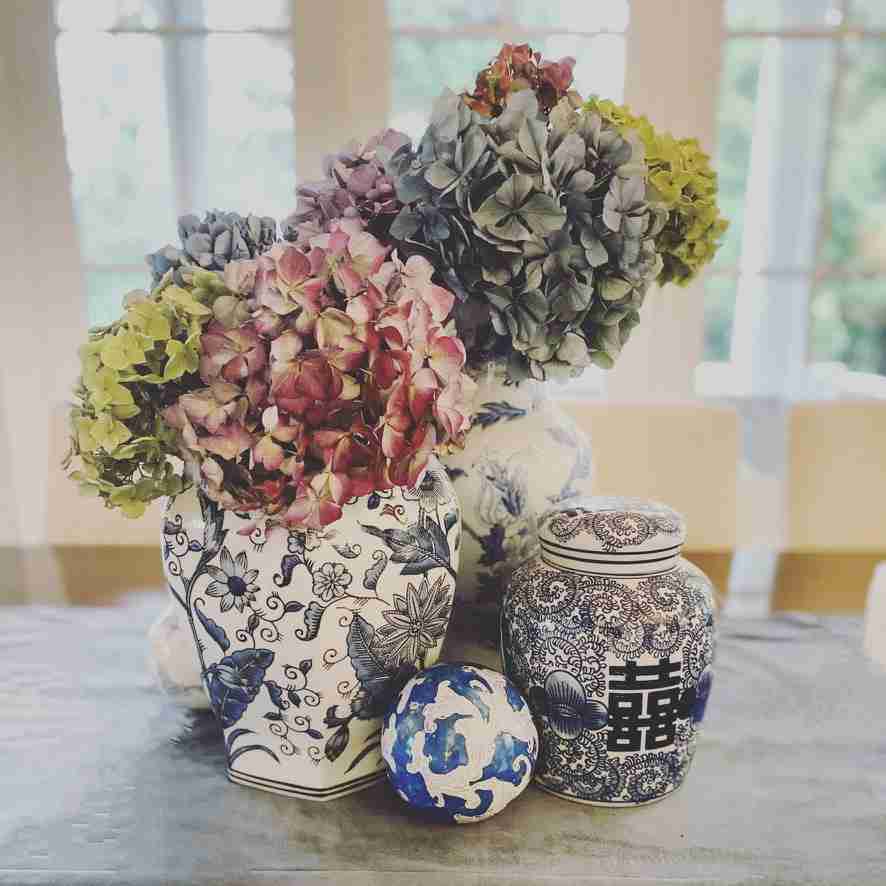 Chinoiserie Decor Elements
Blue and white porcelain is a favorite with many decorators. The Chinese porcelain dates back to 14th century China. The look was so universally popular, Europeans imported it by the shiploads, finally learning how to produce porcelain on their own in the 18th century. Chinoiserie ginger jars are my favorite.
These timeless classic decorative pieces and can be incorporated into many different decor styles. Plus, the blue and white hues plays nicely with other color schemes.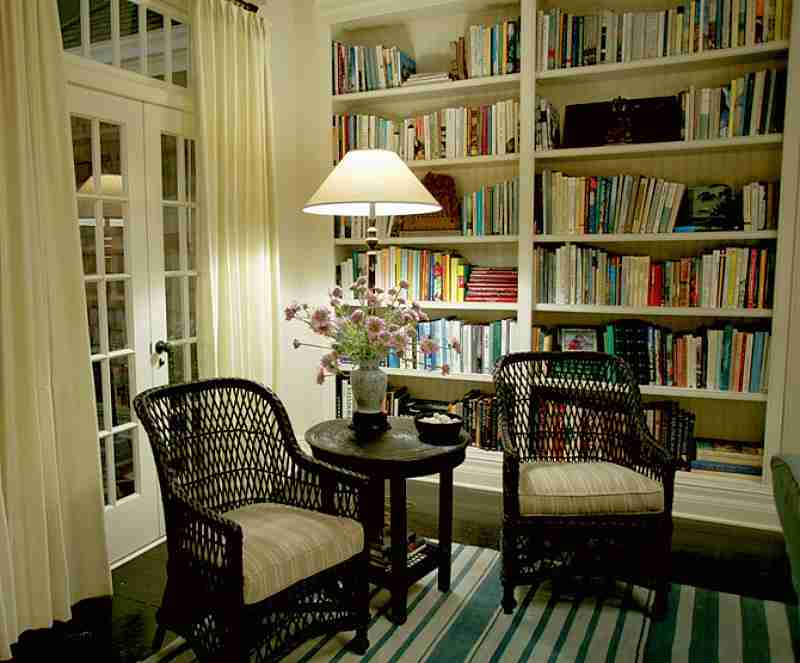 3. Add Natural Materials For Texture
Consider adding wood furniture and natural materials – such as rattan, jute, and sisal. Sisal and jute rugs add a nice touch. Look for natural fiber textiles like cotton, linen, and grasscloth when choosing fabrics for your coastal decor.
Grasscloth wallpaper adds a lovely timeless decorating element that makes a room more inviting. Grasscloth comes in many varieties and colors, and it's understated enough to allow the fun textiles to take center stage but assertive enough to make a difference.
4. The Hampton Living Room
The living room in a Hamptons style beach house is characterized by its relaxed, inviting look. The interior decorating style offers a relaxed coastal atmosphere with large scale sofas for reclining, substantial island benches for gathering and entertaining, and doors that open to a large patio or pool deck.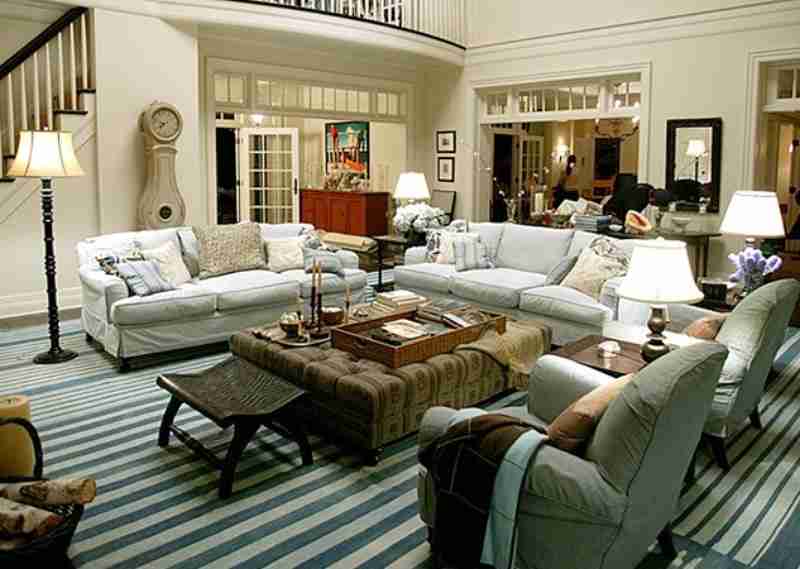 Consider cushion covers with light, neutral-colored cotton or linen fabric. Classic patterns like stripes and colors such as navy will give your home the refined, summer estate feel. Chandeliers, table lamps and sconce lighting are wonderful statement pieces.
When seeking new furniture with a coastal flair, look elegant lines, tradition pieces and seating with comfy cushions. Think about adding rattan side chairs with linen cushions and classy throw pillows.
Overall, the Hampton style is comfortable and cozy, and since you spend most of the time in the bedroom, it's an ideal place to create a heavenly retreat. Ratan is also very popular. Check out some ideas below.
5. The Coastal Hampton Bedroom Decor
Nothing is better than crisp white sheets, comforter, and lots of fluffy linen pillows. My bed is draped with luxury linens from Crown Linens on top of a white cotton duvet cover. The diverse texture is yummy. We sleep in white bamboo sheets by Bed Voyage that we are obsessed with.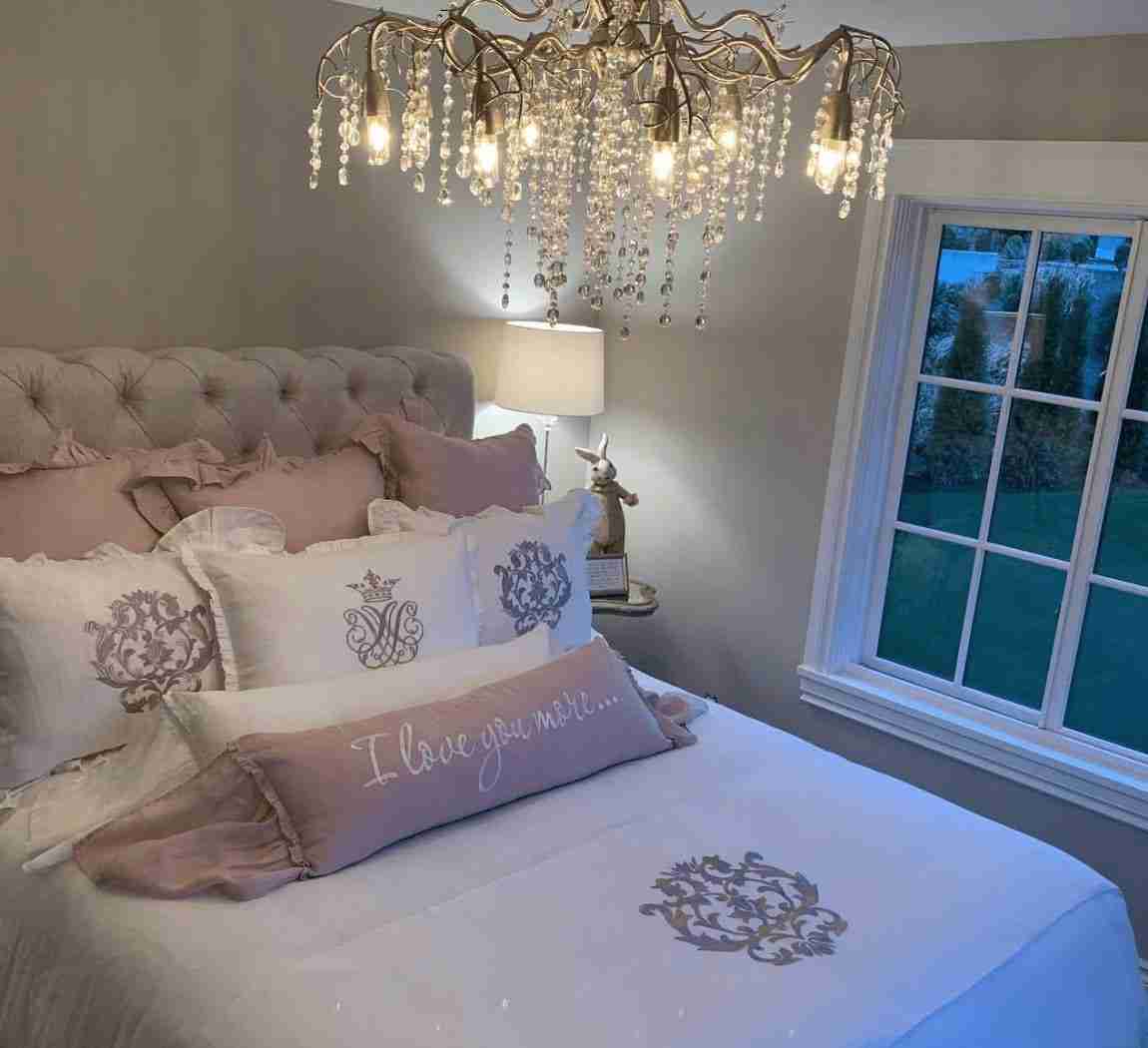 Consider using white linen drapes in your master suite for that airy, clean look and add an interesting chandeliers for that elegant touch.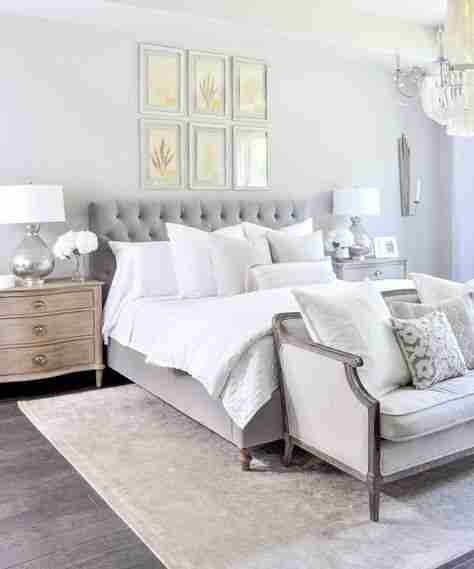 For kid's bedrooms and guest rooms, it's fun to add coastal colors and beach accessories that add to your theme.
6. The Coastal- Hampton Bathroom
The coastal bathroom design should resemble a beach house feel with light marble countertops and floors. I would avoid granite or dark tile. Subway tile is always a safe bet (especially in white) a nice touch for bathroom walls and showers. The blue-gray subway tile in the bathroom shower below is gorgeous.
Traditional mosaic tile is a classic choice for the floor, it's what I used on three of our bathrooms, I adore it.
I would explore using white, gray, or an interesting blue- gray cabinetry. I absolutely love the color of the cabinets in the picture above (our boys bathroom). We used the same color in the laundry room and bar.
Cool wall colors make for a great paint choice. When you add white towels, it will add an element of merely keeping the room looking clean and straightforward.
7. Hamptons Kitchen Design
The kitchen is the center of and heart of every home. White kitchen cabinets are the standard in most Hampton homes.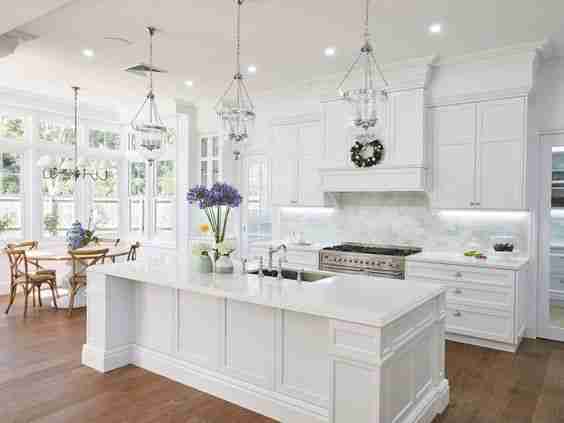 Classic shapes and natural materials capture the ambiance of a Hampton home. White painted cabinetry and dark or neutral wooden flooring are typical Hampton kitchen materials. Coastal wall color in the kitchen may vary. It's common to see light gray, blue and white walls in the kitchen.
Natural and timeless materials such as stylish marble or timber are ideal options, bringing a coastal feel to your kitchen. Ceramic tiled in neutral or blue tones and classic shapes will add a contemporary touch to the traditional kitchen design. Think timeless …so light marble, or stone countertops are never a bad idea.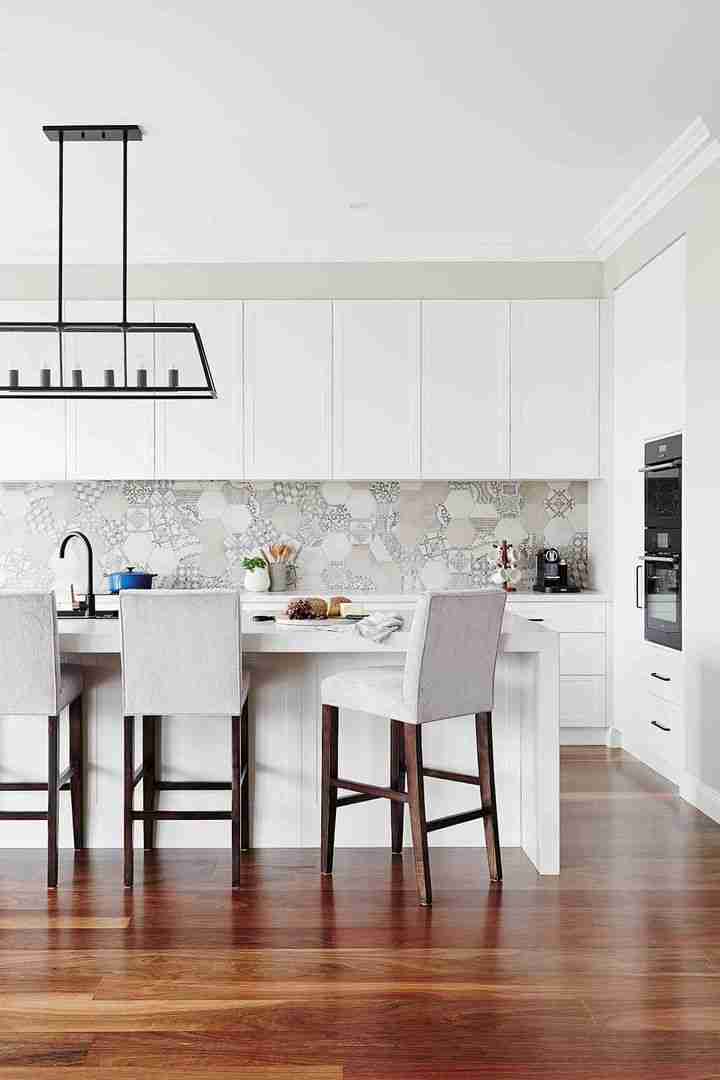 8. Wall Paneling To Add Coastal Charm
Consider adding wainscoting, bead-board or even coastal wood panels to bathrooms, hallways, kitchens and entryways. There is so many paneling products these days that make this process easy. By adding interesting wall detail it can transform any room with architectural character and charm.
It's been proven that investing in upgrading the architectural elements in your home is a good place to put your money. You may want to look into adding boxed moulding on your walls.
This is one of the most simple and easiest option that includes adding strips of wood to your already existing walls (either with glue or nails) and then painting the entire wall to match. You can customize not only the size of the boxes, to be squares rectangles or a combo of each, but also the thickness of the boards that you add to the wall to achieve just about any look.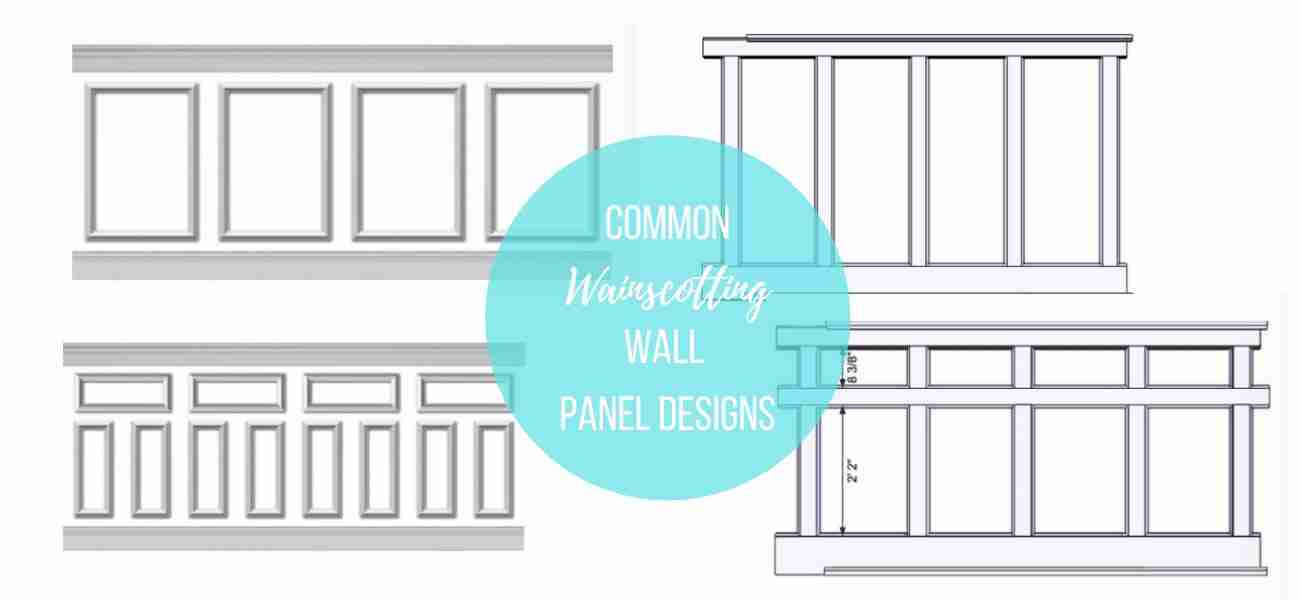 9. Hampton Coastal Paint Colors
Coastal color palettes create a sense of calm A coastal wall color can completely transform the feel of the space. There are some colors that are quintessentially Hamptons.
The essential Hamptons color palette for interiors includes soft blues and greens, neutral gray, stone, ocean blues, sand and whites, slightly on the warmer side.
Some Hamptons palettes includes a soft gray, blue or green as the main color and use a bright white such as Benjamin Moore White Dove for all woodwork including windows, doors, ceiling, skirtings and architraves. We used this color throughout our house for all trim, woodwork including kitchen, office and bathroom cabinets.